Amsterdam West
In just a few years, a city within a city has sprung up in Amsterdam-West: the Amsterdam Houthavens. Nestled between the Spaarndammerbuurt and the IJ, it's now home to 2,700 residences spread across seven artificial islands.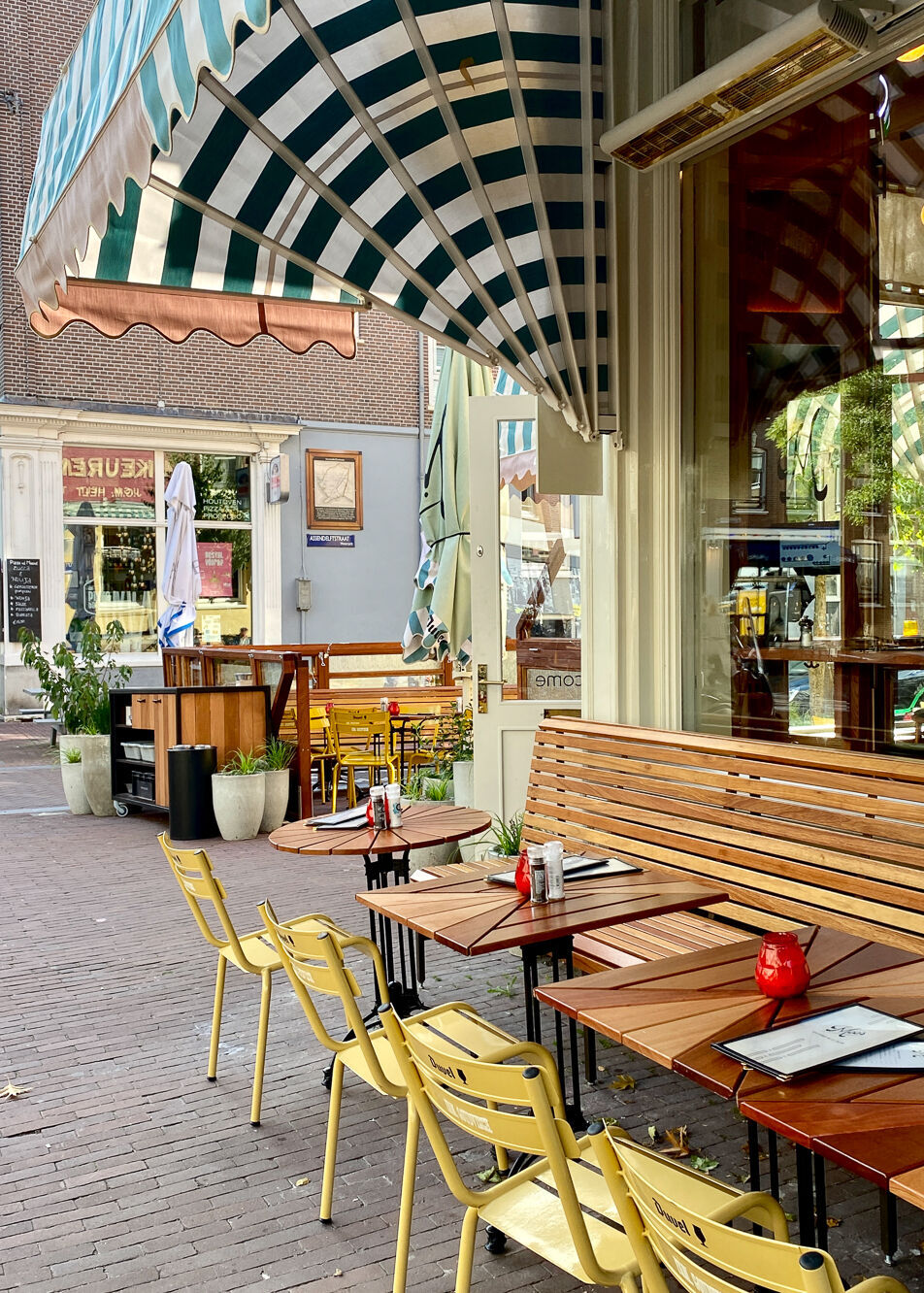 Alongside the modern architecture, canals, and bridges, you'll find a vibrant community of creative agencies and renowned fashion companies.  Of course, this calls for some noteworthy experiences. We've put together a list of our favourites, a mix of well-established gems and some local treasures.
Starting off with a place that gets you covered for all your needs and brings you straight away into a local Amsterdam setting, Café Moos. It's the kind of place that's welcoming to everyone and just plain cosy, all day, every day. Moos is your morning spot for a great cup of coffee, at lunch, you can bask in the sunshine on the terrace or in winter times warm up under the heater, and in the evening, the fun begins. A delightful dinner awaits you. The real proof of Café Moos's ability to throw a party, though, is on Friday afternoons: hello, after-work drinks for our remote workers. Spaarndammerstraat 53, 1013 TA Amsterdam
If you're in the mood for a fine glass of wine and a little something to munch on, hop by Compartir. The Spanish name Compartir means "to share" - and that pretty much says it all: almost everything becomes better when shared. Just pop in for a good glass of (orange) wine and a table filled with the finest dishes from the Middle East to the Mediterranean. At Compartir, you escape the hustle and bustle and if you close your for a second,, you'll feel like you're in a distant, warm land. Spaarndammerstraat 49H, Amsterdam
Whether it's a special occasion or simply embracing life's moments, BAK, a pop-up turned bricks-and-mortar restaurant, is undeniably one of the gems in Amsterdam's Houthavens. Well, okay, it's technically on the outskirts of the Houthavens, but we're just going to include it because it's too good to miss. It is located on the third floor of a refurbished warehouse in the old lumber port of the Houthavens. The stylish interior features vaulted ceilings, wooden seating, and festive strings of light bulbs. Here, you can savour a menu that includes five, seven, and nine-course set menus. The ingredients are locally sourced and seasonally inspired. BAK is the big sibling of Bambino (an adorable little place on Vijzelgracht you want to save for another time). At BAK, they can accommodate almost all dietary preferences, except for those with gluten allergies, unfortunately. Planning to go on the weekends, make sure you reserve in time. Van Diemenstraat 408 1013 CR Amsterdam.
Dancing the night away? Just a stone's throw from The July Boat & Co, you'll find Yellow House. Speaking of extending the good times, this is a special spot where you can make the most of your time. Here, you can set up your workspace during the day, either indoors or in the fresh air in summertime, and enjoy a delicious lunch. As the afternoon rolls in, it's time to unwind with a drink and a great dinner. You might even quickly hop back to The July to drop your laptop and spice up your wardrobe for the night before you head to the dance floor. Danzigerbocht 45R, 1013 AM Amsterdam
If you feel like dancing inside a crowded space is not really your thing but are up for some outdoorsy leg-wandering, Westerpark is the ideal spot. The Westerpark is less touristy than its more famous sibling, the Vondelpark but equally enchanting. This  green sanctuary is accompanied by a collection of historic brick buildings known as the Westergas complex. Inside, you'll discover a variety of wonderful shops, dining spots and creative enterprises, such as De Bakkerswinkel, exceptional coffee at Espressofabriek, art-house movies at de Ketelhuis and the Westergasfabriek itself, which hosts one of our beloved markets on the first Sunday of every month. Haarlemmerweg 8-10 1014 BE Amsterdam
Get ready to stay your way in the vibrant Houthavens neighbourhood of Amsterdam. Whether you're here for a weekend or a long stay, these gems are your ticket to experience life like a local.